Greetings, adventurer! You've stumbled upon Roleplay Hub, a welcoming community for roleplayers of all types. Whether you post on a forum or chat room, roll dice,
or don a costume on weekends, you'll be among friends here.

Since you're currently browsing as a guest, would you like to register or log in?
Forum rules
Welcome to the Hub! Please feel free to introduce yourself so that you can get to know our members!
Share some facts about you, what you like to role play, where you found us, or whatever you'd like!
<=== N00b

Ok, now that I've gotten the obvious stuff out of the way how bout a few more details for those interested. I'm a mid30s Pennsyltucky man who owns a small Deli. Growning up in the country before the advent of any real technology meant a lot of imagination time in my youth. I believe I was LARPing before LARPing was a thing, we just called it playing back then. I spent a good bit of time playing dice based games, D&D, Heros Unlimited(yea, I know), Vampires, the usual stuff. I even had enough free time to create a few games of my own that my handful of friends and I would play, most of these games had systems based off other games but we'd change the subject matter to some of our other interests, skateboarding, or pro wrestling for example. THAC0 roll to land a trick, anyone?

Fast forward 15 years and I got hooked on mmorpgs, Everquest for 4 years after release and played WoW for a year a few years back. Unfortunately, I found I get waaay too addicted to those type of games and they become life-eaters. In recent years a few of my friends and I have combined our love of videogames and creative writing into a few interesting(albeit totally nerdy) creations, such as our current UFC seasons, complete with fight camps, drafts, rivalries, trades and the like, or our old Create-A-Wrestler promotion we ran off an old WWE game.

I've come to this site because I'm again in need of an outlet for my creative juices(Hello, Ladies.. j/k), and I've got it on good authority that I'll probably meet some like minded folks around here. I'm happy to be here and hope folks can be patient with my Noobish self till I get a good grasp of how things work. Hopefully it won't take me too long to get into the swing of things since I have a TotallyAwesome mentor to help me out.
New Member - Say Hello!
Posts: 1
RP Challenge Points:
Writing Challenge Points:
Artistic Challenge Points:
Achievements: 1
---
xDDDDDD


I see what you did there.

*cough* I'm Ellen. *blink* Welcome to the Hub! We're awesome here, and you'll like it, I promise. If you have any questions, feel free to ask me, or anyone else with a green, blue, or purple name. Also, the chat box at the bottom of the page is a great place to meet people as well.

Now that I have that, like, required stuff out of the way...



Told you I was gonna be first.
Posts: 472
Location: Hanover, PA, USA. The Snack Food Capital of the World
Player Profile: Clickety
RP Challenge Points:
Writing Challenge Points:
Artistic Challenge Points:
Achievements: 3
---
I agree that your mentor is totally awesome. XD
Heya! Welcome to the Hub, Jirlain! I am rewriting this because my original post really sucked, so now you don't have to read it. Anyway, it's really good to have you here! Don't worry about being a noob, noobs are cool. I think Ellen told you pretty much about the stuff here, so that's cool.
I'm Damian, and I'm also pretty bamf, and I really, really hope to see you around and posting around here!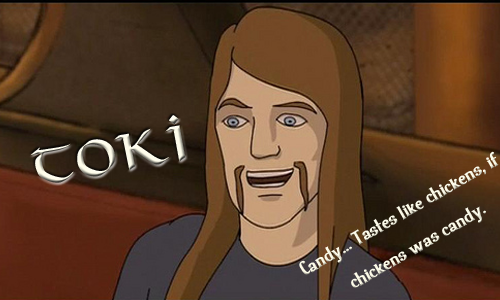 Posts: 1629
Location: Québec
Player Profile: Bitte clicken Sie hier :P
RP Challenge Points:
Writing Challenge Points:
Artistic Challenge Points:
Achievements: 4
---
Who is online
Users browsing this forum: No registered users and 1 guest
Dislike seeing ads as much as we do? Click here to remove them!